Choose Source For Importing Documents
2 minute read
Last updated on

July 23, 2021
The Dispatcher Phoenix Workstation supports submissions from TWAIN-based scanning devices, including MFPs, Desktop scanners, and high-speed production print devices. You can also import folders and images from your computer.
Select Source Window
To choose a source for importing documents, click on the Select button from the Scan Setting's tool bar. The Select Source window appears. Any connected scanners or MFPs will be automatically detected by Dispatcher Phoenix Workstation and displayed in this window. For example, in the following illustration, the Kodak scanner has been automatically detected: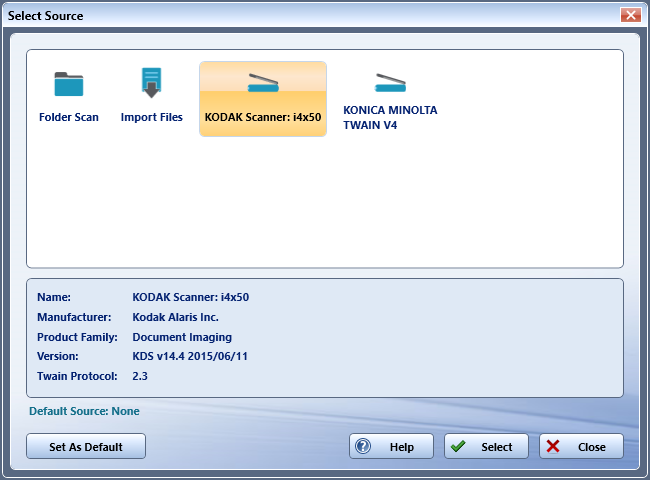 Once you are done selecting the source, click on the Select button.
Key Features
The Select Source window provides the following options for import:

Folder Scan - Import specific images from a folder.
Import Files - Import specific images from your computer.
Scanner/MFP - The connected scanner or MFP that has been detected.

Note: If you choose a scanner/MFP, you can also specify scan settings for the batch.

Set As Default - The Set As Default button allows you to set the selected source as the default that will be used the next time you scan documents into a batch. Once a default has been specified, it will be listed as the Default Source and it can be easily reset by clicking on the Reset link. See the following illustration:

Back to top